Sale price
$4,299.00
Regular price
$4,799.00
Unit price
per
Sale
Sold out

Product Parameters
| | |
| --- | --- |
| Laser Power | High precision RF 38W |
| Machine Dimensions | 38.2"*22.2"*9.2" (970mm*565mm*234.5mm) |
| Processing Area | 20.08" (510mm)*11.8" (300mm) |
| Maxinum working height | 20"(51mm) |
| Rotary Engraving diameter | 30mm-74mm |
| Rotary Engraving Length | ≤245mm |
| Camera | support |
| Weight | 45.6kg |
| software | Gweikecloud Web Based,Gweikecloud Offline, Lightburn |
| Connection / Transmission | Wi-Fi, USB, Ethernet |
| Supported File Type | SVG, DXF, JPG, JPEG, PNG, BMP, TIF, CR2, etc. |
| Power Supply | AC 110-220V±10%,50-60Hz |
| Gross Power | 550W |
| Noise Rating | ≤70dB |
| Max. Carving Speed | 1200mm/S |
| Precision | 0.0004" (0.01mm) |
| Laser Tube Life | 20000hours |
1. Built-in Air Chiller, Subzero Temperature Working
2. Air Exhaust Fan, ≤70dB
3. Built-in Air Compressor, ≤70dB
4. 5MP Camera, Preview Design and Visually Position.
5. Honeycomb Panel, 20.08" (510mm)*11.8" (300mm)
6. Material Package:Basswood*5, Acrylic*5, Cardboard*5
7. Gweike Cloud Web Software with Free Online Design Library and Control Motherboard Upgrade
View full details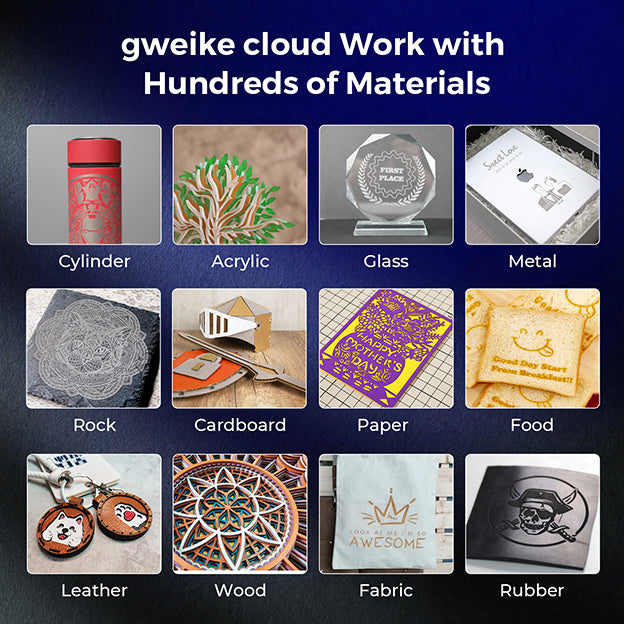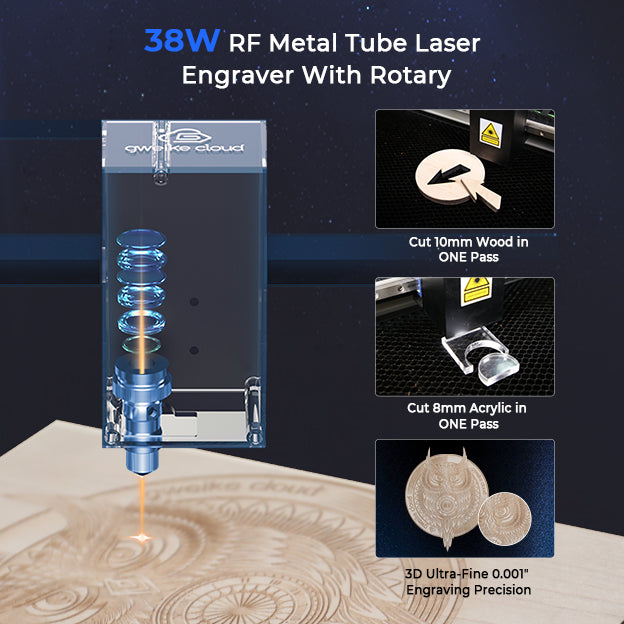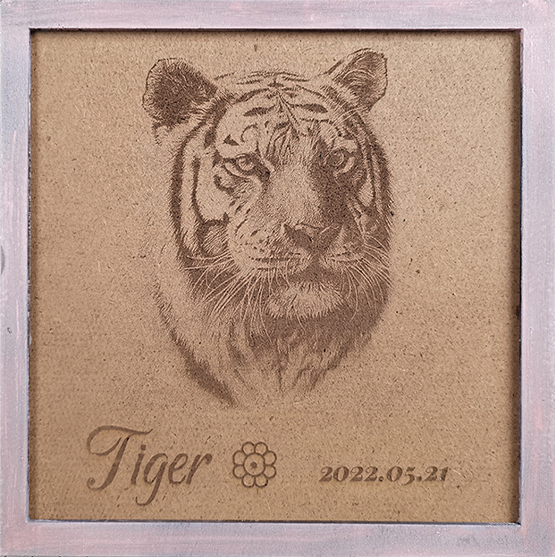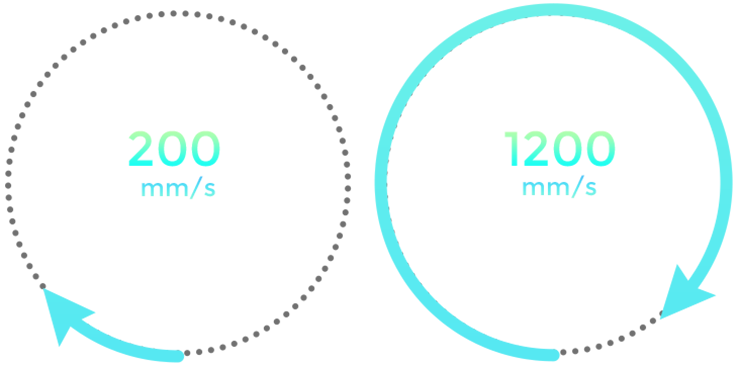 Material: MDF
Power: 80%
Speed: 1200 mm/s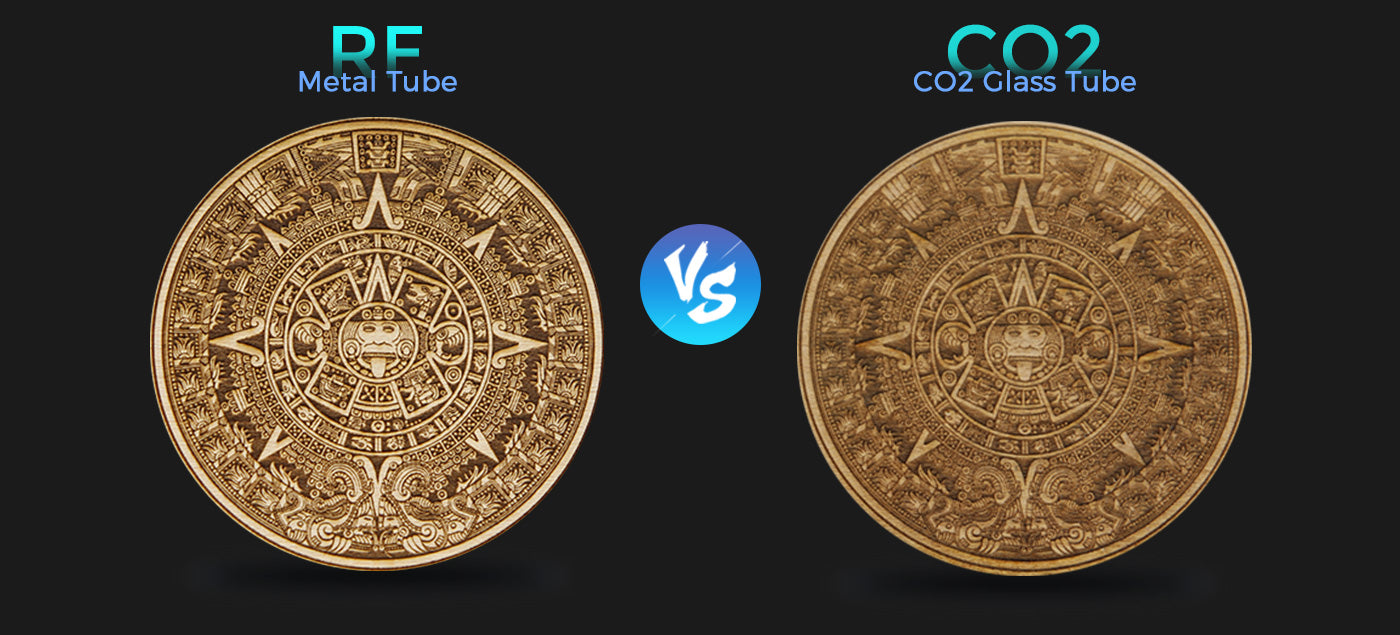 RF metal tube frequency tube laser engrvaing machine has a fine spot of 0.07mm.
More than 3 times finer than glass tube, delivers higher precision.
Small thermal diffusion area, and can engrave/cut very fine works.
CO2 glass tube laser engraving machine has a coarse light spot of 0.25mm.
Poor accuracy, unstable light output (uneven light intensity, sometimes no light).
Large heat diffusion area, melting and blackening of the cutting edge, and poor engraving accuracy.
Sparkle Your Creation with Gweike cloud Materials
make art out of acrylic, wood, rubber, leather, metals and more
Glass
Coating Metal
Plywood
Food
Rubber
Acrylic
Paper
Leather
Rock
Industrial Frame Design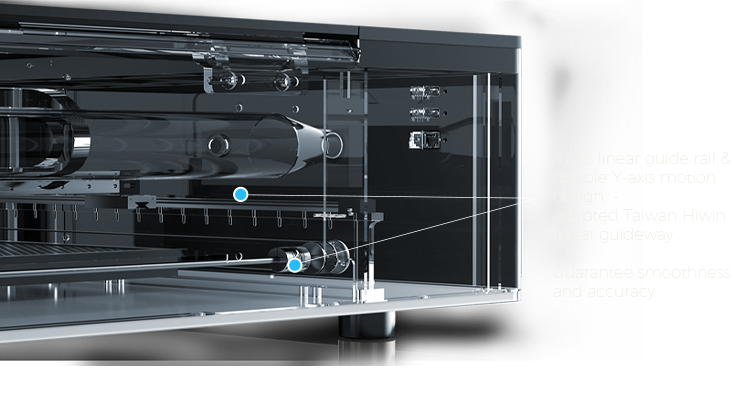 Easy to Focus, Precise & Quick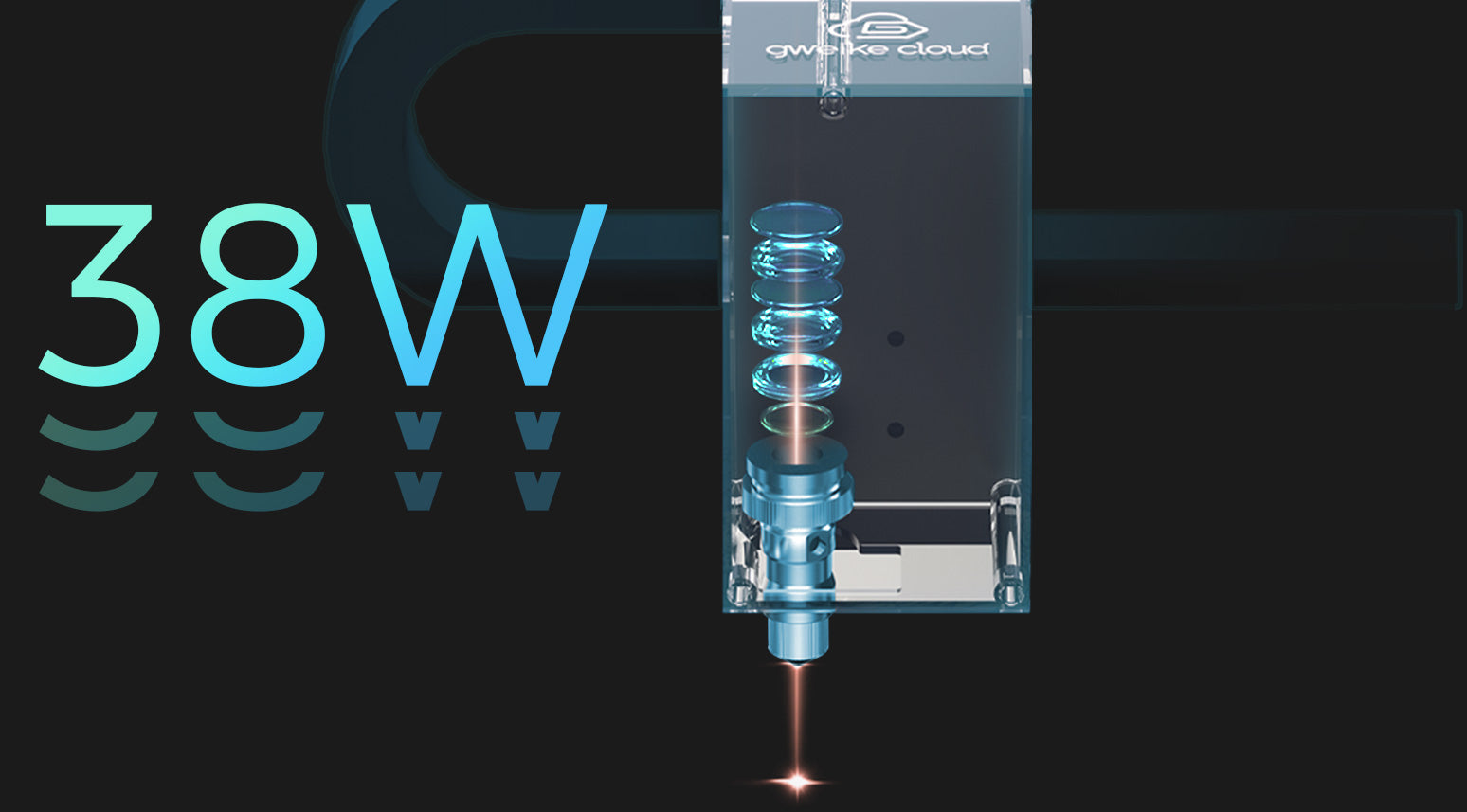 Easy to Focus, Precise & Quick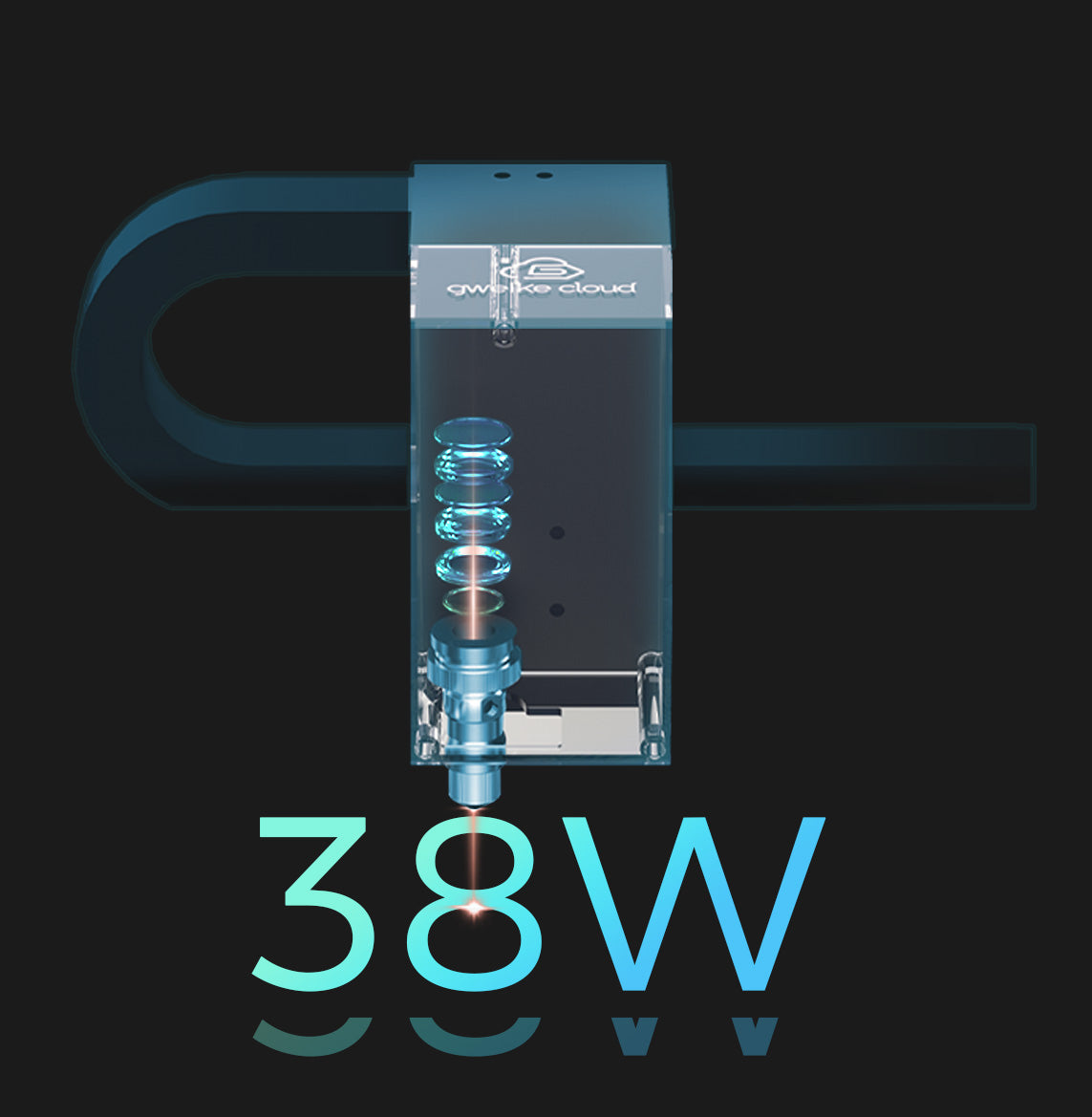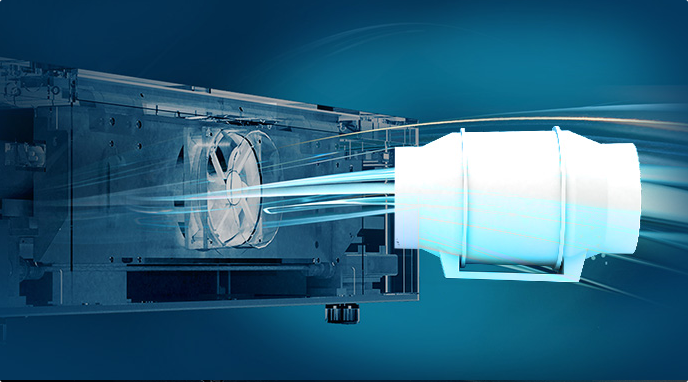 Venting System
The wind rate is significantly improved and the wind volume is larger. Easier to remove smoke and exhaust fumes. Effectively solve the gas retention caused by the production process.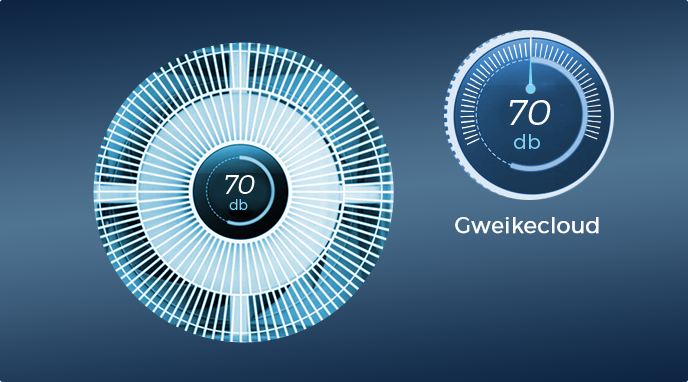 Noise-canceling
During normal printing, gweike cloud has an average noise level of about 70 dB(A). Equipped with a much quieter fan the speed can be adjusted automatically according to the real-time temperature, realizing a noise level decrease of about 16 dB(A)[3], so that you can truly focus on your making.
What Other Advantages?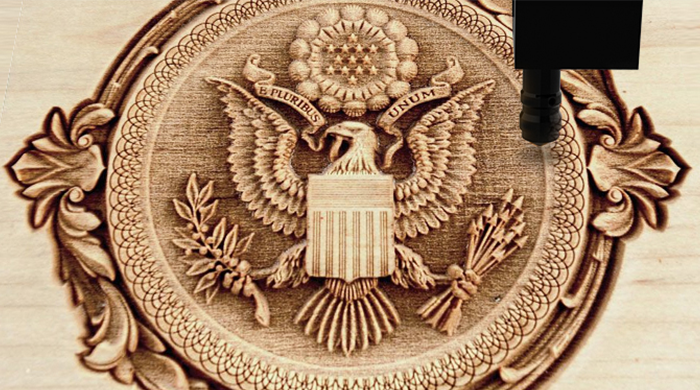 3D Engraving
It can engrave on sphere, tilt plane, curved surface and different height object. It can create 3D image on diamond,woods, and acrylics ,etc.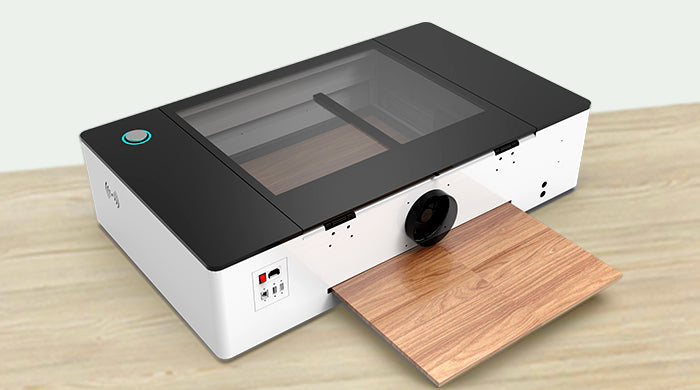 Machine Bottom Feeding Design
Top and bottom compartments can be used together allows for a bigger work area.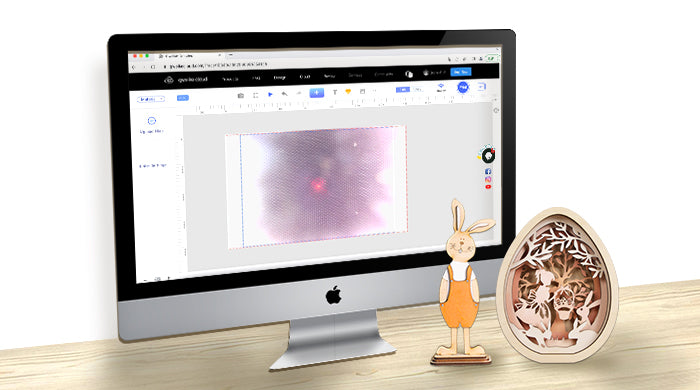 Cloud online Operation
Your Gweikecloud runs from a web browser, which means there's no software to install - ever. Drag and drop your designs right onto your material. Upgrades are instant and seamless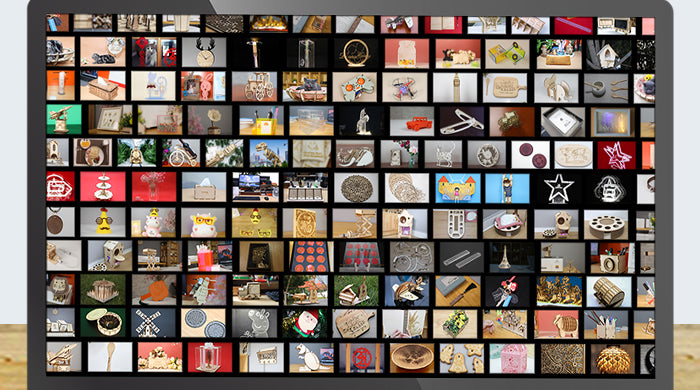 Online Design Catalog
If you do n't have professional drawing design experience or you do n't have time to design drawings, Gweikecloud provides massive materials for free download or you can purchase online
3D Engraving
Machine Bottom Feeding Design
Cloud online Operation
Online Design Catalog
Specs Summary
Tech Specs
gweike cloud VS glowforge
Material Cuts & Engraves
Laser System
Laser Power 38W
Laser TypeRF Metal Laser Tube
Lifespan 20000h
Safety Guard Class I (FDA Certified)
---
Work Area
Work Table Area 20.08" (510mm)*11.47" (290mm)
Max. Workpiece Height(without honeycomb tray) 2" (51mm)
Work Table Surface Black (Special surface finishing technique helps reduce burn marks or discoloration)
---
Materials Processing
Max. Carving Speed 1200mm/s
Carving Precision 0.001mm
Noise Rating ≤70dB
---
Rotary Device
Rotary Engraving diameter 10mm-180mm (with risers)
Rotary Engraving Length ≤245mm
---
AI Camera Information
Camera support
---
Software Requirements
Control Software Gweikecloud Web Based,Gweikecloud Offline, Lightburn
Connection / Transmission Wi-Fi, USB, Ethernet
Supported File Type SVG, DXF, JPG, JPEG, PNG, BMP, TIF, CR2, etc.
Design Software AutoCAD, Solidworks, Inkscape, CorelDRAW, PowerPoint, Illustrator, Photoshop, Google AutoDraw, etc.
---
Environmental Requirement
Power AC 110-220V±10%,50-60Hz
Gross Power 550W
Nonoperating Temperature 0~45°C
Relative Humidity 5~90°C
Operating Ambient Temperature 0~35°C
---
Weight & Dimensions
Machine Dimensions 38.2"*22.2"*9.2" (970mm*565mm*234.5mm)
Weight 45.6kg
Package 114*73*36cm
Total Weight 58kg
---
Supported Accessories
Cameras: 5 MP ultra-wide-angle camera wide angle & macro
Built-in air pump
Air Chiller
Dual high-efficiency internal LED strips
---
| | | |
| --- | --- | --- |
| | gweike cloud RF | Glowforge |
| Engraving Speed | 1200mm/s | 200mm/s(Pro) |
| Working Area | 510mm*290mm | 495mm x 279mm |
| Rotary Support | Yes | No |
| Software | Lightburn, Offline software, gweike cloud Web base | Glowforge Web base |
| Laser Power | 38W | 40W(Basic/Plus), 45W (Pro) |
| Self-defined Material | Yes | No |
| Emergency Stop Switch | Yes | No |
| USB Port Support | Yes | No |
| Inline Duct fan | Yes | No |
| After-sale Support | 7*24 online service | Appointment only, by email |
| Warranty Time | 12 month | 12 months,  6 months(Basic) |
| Price | $4,199  | $6,995(Pro) |
| Material | Engrave | Cut |
| --- | --- | --- |
| Wood | ✓ | ✓ |
| Acrylic | ✓ | ✓ |
| Fabric | ✓ | ✓ |
| Glass | ✓ | × |
| Coated Metals | ✓ | × |
| Ceramic | ✓ | × |
| Delrin | ✓ | ✓ |
| Cloth | ✓ | ✓ |
| Leather | ✓ | ✓ |
| Marble | ✓ | × |
| Matte Board | ✓ | ✓ |
| Melamine | ✓ | ✓ |
| Mother of Pearl | ✓ | ✓ |
| Paper | ✓ | ✓ |
| Mylar | ✓ | ✓ |
| Pressboard | ✓ | × |
| Rubber | ✓ | ✓ |
| Wood Veneer | ✓ | ✓ |
| Fiberglass | ✓ | ✓ |
| Painted Metals | ✓ | × |
| Tile | ✓ | × |
| Plastic | ✓ | ✓ |
| Cork | ✓ | ✓ |
| Corian | ✓ | ✓ |
| Anodized Aluminum | ✓ | ✓ |
Voices Of Gweike Cloud Users
RF Laser
Ordered the RF laser in early June and received it in Miami in July. Customer service was excellent all the way through the process, including helping with a delivery problem from the local shipping company who became a problem as they would show up to deliver when I wasn't home and I never knew what day they were coming. Customer service at Gweikecloud helped resolve the issue.
This is my first Laser Engraver. I'm still learning to master it but have created some beautiful products. Customer service again is first class (a WhatsApp Group Chat) and they are fast to answer any and all questions.
Some in the USA might have reservations about ordering a laser from China, but I can say customer service has been better than many US companies. Don't let that keep you from considering this engraving machine.
This is excellent device I like rotary attachment to grave my Mead bottles. Bee sweet home
well constructed laser, focusing is overly complicated
The laser is built very well and so far is very accurate. However, the focusing is complicated. You have to subtract the thickness of the material from some number then move focus the laser the difference. Using lightburn to get get to focus you need is not intuitive. So for 3mm plywood, I set the focus to 12.8. It would be nice if the controlling software did all the math for you. The laser should know how far away the lens is from the base, what the focus distance is from the lens to the material surface. I don't know how far the focus distance is. Basically the focusing is complicated with this laser and not intuitive and how it translate into a focus distance in lightburn. It seem designed around using gweike material with a barcode on it, using it without that and lightburn is complicated to focus.
Second there is not much space for thicker material.
I don't know why there is an exhaust fan i. the exhaust port since you hook up to an external fan anyways it seems redundant and an impediment to air flow.
It is a very good laser it just has some quirks particular in the focusing that make it more complicated then it needs to be when using it with lightburn.
RF Metal Laser
Everything was as described on Sexy Cyborg youtube.
The benefit of the RF tube is no water to deal with and worry about freezing (I am in Maryland) but, cutting is more limited. Weight the pro's & cons of each for your use.
The only thing that would be nice a galv bed so you can use magnets to hold down material. The bed that shipped with the unit is Alum.
Have not used the Gweike Cloud since the location of the machine does not have internet.
Works great with Light Burn.